I've had my SOG hawk for a little while now, but never really got around to posting much about it in my blog. One thing I want to say up front is that this hawk, along with my
SOG Trident Tanto - Black TiNi
are my basic every day carry items. Whether I'm on the road, or busy working, they are never far away.
There are several things I like about this hawk. Two things that stand out is it's durability and weight. I can slide this hawk into my pack and not even notice it's in there. Most text books today weigh more. As for it's durability, one of the first things I did when I received it was to head into the backyard and chop up some kindling wood out of quarter rounds. The hawk made short work of the wood and still had it's sharp edge that came from the factory.
The sheath is made of a heavy nylon that is three snap closures at the bottom so you can open and pull the hawk out with minimum effort and fast (assuming it's reachable at that time). I'm not a huge fan of the small belt loop on the back of the sheath due to it's smaller size, but that's much to squawk about. I normally just slide this hawk into my belt when I want fast access to it, or it's waiting to be used in my bag. The material seems heavy enough and should last the life of the hawk, unless you are extremely rough on your tools...then you may possibly pop on the the rivets loose, but it wouldn't be easy.
The handle is made from a heavy duty ballistic polymer and us textured in a way so that it won't slip out of your hand when taking a swing. I've read somewhere that some people like to add rubber o-rings to their handle on this hawk for even more added grip, but I haven't lost my grip on it yet and like the way it feels right out of the box. It would take an act of god to break this handle...that's how tough it is. At the bottom of the handle is a hole, in case you want to add a lanyard to your hawk. This is usually the first thing I do :-)
As for the blade itself, I'm one again pleased with what I see and how it performs. Granted, I've never split anything other than wood with this hawk, but in a life threatening situation and in close quarters, this would be my hand-to-hand weapon choice. The head itself is made from a nice piece of 420 stainless steel which features a 2.75" edge on one side, and a spike on the opposite side that can be used for any number of things (breaching, digging, ect) The tang of the head actually goes down the handle a short ways (about 2.5 inches) and is secured in place by two matching allen screws. for added strength, SOG also included a steel band that wraps around the body of the handle just below the screws. This gives it a nice clean finish, but also adds strength to the hawk as well.
The total weight of the hawk is right at about 24 ounces. I personally like the weight and the heft of the hawk as it feels good in my hands. I've never tried to throw this hawk like I do with my Cold Steel hawk, but I have seen videos of folks tossing a hand full of the these tactical hawks at a target and sticking each one with precision. Another good things about tossing this hawk would be that you WONT break the handle, no matter what.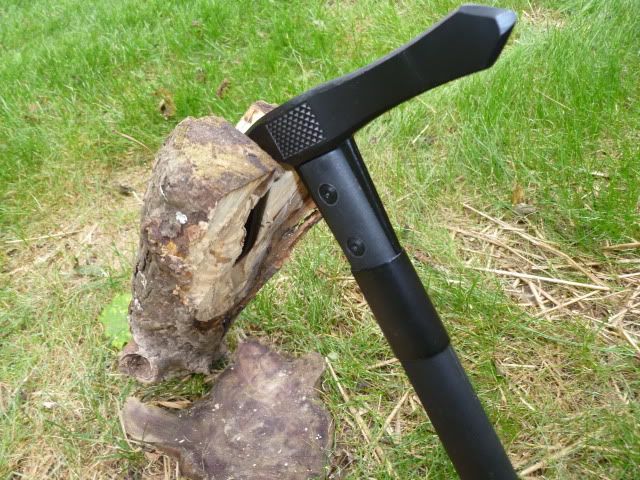 I decided to go out back and cut up some logs with this hawk. I've done this before, but didn't get any pictures at the time and wanted to post some proof this this is not only a good tactical hawk for defense, it's also a good chore hawk that can keep up with about anything you toss at it.
Since I have a wood stove and use it a lot in the Winter, I keep a good stock of wood on hand. It's never hard to find some good wood to work with around my house :-)
A single swing and i was about half way through this piece of pine. You can really feel the heft to this hawk when it's moving through the air. One more solid chop and the log split in two with no trouble at all.
I decided to get out a bigger piece and see how it would fair. This was a very solid 6.5" piece of pine. I was actually surprised at how well the SOG Tactical Hawk split this this piece of wood on the first cut. This was the first time I tried to split a piece of wood this thick with the SOG Hawk and I was able to without any trouble at all. When I was done, I had some nice kindling ready to go when I need to get my fire going.
In all, I am very pleased with the SOG Tactical Hawk F01T-N and plan to continue using it as my EDC tactical tool, along with my SOG Trident Tanto folder that goes everywhere with me.
Thanks for reading folks! For added humor, here's a pic I just took with me holding the SOG hawk :-)
- Bill