So, I was out a few weeks ago with my wife and came across this little hatchet in a small shop. Of course anything with a blade catches my eye and combine that with the word "hatchet". I just had to check it out.
I purchased this little guy for $17.99 and tossed it in my pack to check it out when I got home. Here are the basic specs on this campers hatchet.
10 Inches overall size
Weight: .085 pounds
Stainless steel black coated blade
Slip resistant handle
Includes nylon sheath
Brand name: WatchFire
I got home and tried to find ANYTHING on the web regarding the company WatchFire and couldn't find a thing, except for a few places that sold the hatchet. I decided to take it outside and give it a once over and try it out.
The sheath that came with the hatchet is just your basic nylon weave with a belt strap on the back and a Velcro closure. The belt loop is loosely sewn to the sheath and if it ever got caught on anything, it would probably tear away. I would either add additional stitching to the sheath, or just toss it in your pack before you head out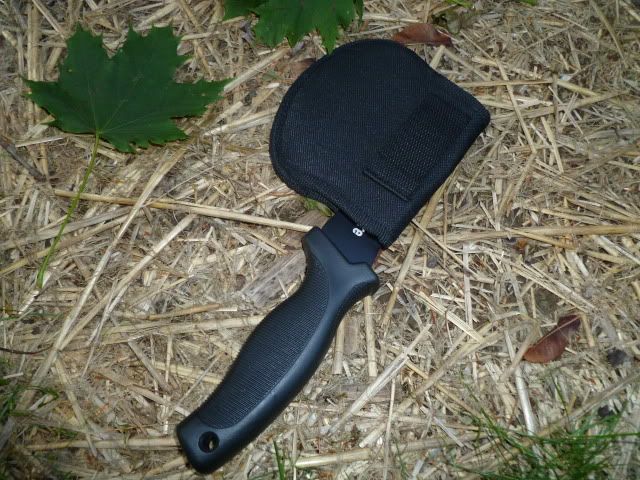 The grip on the handle is actually pretty nice and provides a comfortable non-slip rubberized texture to grab onto.
The blade came out of the box dull (to my standards), so I took my file to it and managed to get it razor sharp with a few swipes. The blade itself is 4 1/2 inches long and 1/8" thick. I out the hatchet to work and was able to do some minimal tasks without much effort. I certainly wouldn't trust my life on this hatchet and you won't be cutting down any giant oak trees with this tool, but it will work fine for cutting up sticks, kindling, smaller branches and similar items. Don't expect to take it out and intend to "blaze a trail through the jungle", you will be very disappointed. Bring your machete and standard hatchet for the larger tasks at hand and keep this little guy in your pack for a backup or for the smaller tasks I mentioned.

Let me know if you have any questions and if someone can actually find some info on WatchFire, send it my way! :) Thanks for reading guys!

- Bill