OK, I admit it! I'm a big fan of Condor products, but it's for a good reason. I don't have hundreds of dollars sitting around that I can spend on custom knives and equipment. While shopping around, I found Condor's website and started to do some research on their products. I was generally impressed with most of the reviews that folks have done over time, but even more impressed at how well Condor was listening to their customers complaints and taking them to heart when working on future products
The 2011 lineup of Condor products is a clear example of customer service at its best. They have changed the design of their axes, going back to a more traditional style that is tried and true. Their various bush knives are now equipped with a sharp edge that goes down the entire length of knife to the handle, as opposed to earlier versions.
One knife that I recently had the chance to work with is the Condor Bushlore. I had a really good time working with it and had good results as well.
I was very happy with my initial impression of the Condor Bushlore. The knife arrived with a factory grind and from everything I have seen from past models, the 2011 model really makes the cut. Here are the quick specs on the Condor Bushlore::
Specifications:
Knife Length: 9 1/4 inches
Blade Length: 4 5/16 inches
Blade Width: 1 1/4 inches
Blade Thickness: 1/8 inches
Blade Material: 1075 carbon steel
Type of Tang: Full
Blade Grind: Single bevel with a convex edge
Handle Material: Walnut inlays
Sheath Material: Leather
Cost: $39.98 msrp(us$)
One thing that I really like about Condors' knife line is the leather sheath you get with each piece. You almost get that "hand sewn" feeling with each knife sheath when you hold and inspect it. I think the sheath alone could sell for $25 or better.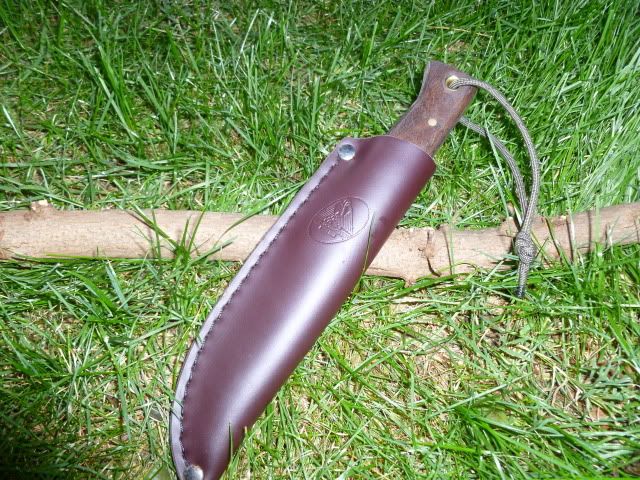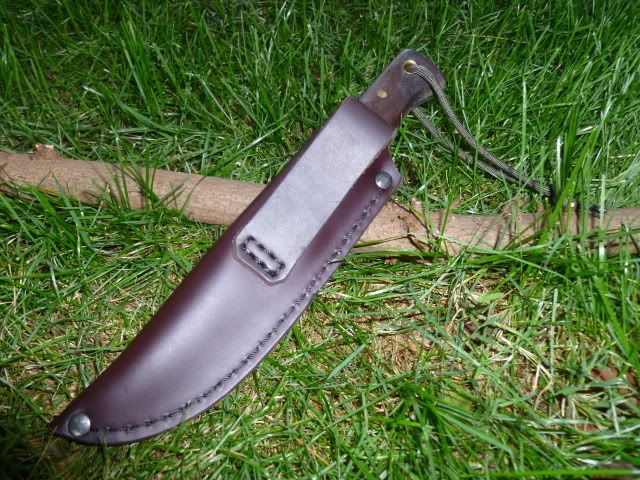 I was able to baton through small to medium sized logs without an issue at all (sorry for the lack of pics) With a few days of heavy use, This knife was still sharp and ready for field use. I don't see this model being a good tool to do super fine wood work with (hard to beat a Mora for that) but this guy will certainly handle any camp related work you can toss it's way.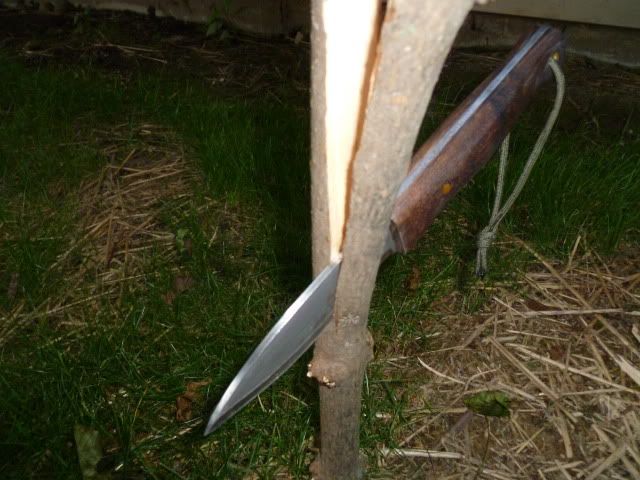 The walnut grip feels really good in your hand, making standard chores easy to handle. The lanyard hole is nice to have as well.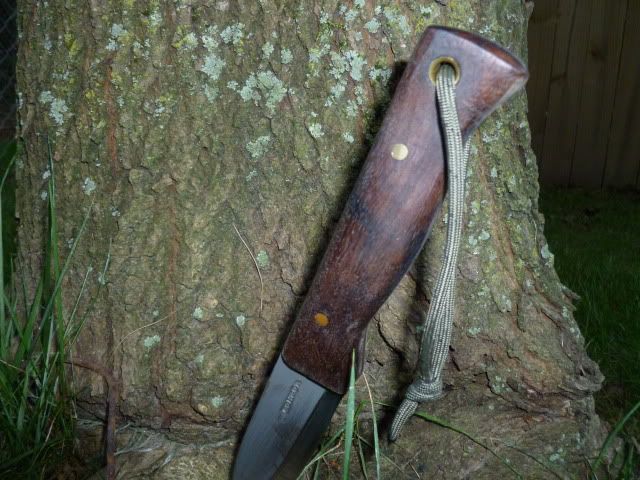 In conclusion, I really don't have a negative thing to say about the Bushlore. I will say one thing about the 1075 Carbon Steel...Don't let water sit on it for long or you will get rust spots. I was toying with this knife in the rain while I was out and didn't get it as dry as I had hoped. The next morning I had to buff out the spots. Live and learn, as they say :-) If I had to grade this knife, this is how I would do it.
Value:: 10
Durability:: 9
Edge Retention:: 8.5
Factory Sheath:: 9
Total Score:: 9
Take a look at Condor's site to check out the Bushlore and many more quality products.
Thanks for reading guys and I hope to add a lot more in the coming days. Be safe out there and let me know if you have any questions!
- Bill